La Ligue des Justiciers - L'attaque de la Légion Maudite
Lego DC Comics Super Heroes: Justice League Attack of the Legion of Doom!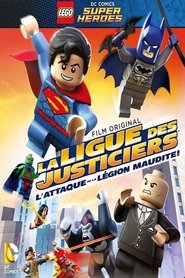 Le crime est en déclin depuis que la nouvelle Ligue des Justiciers maintient la paix à Metropolis… et cela rend le diabolique Lex Luthor vraiment mécontent. Avec Black Manta, Sinestro et un gang de recrues impitoyables, Lex construit sa propre ligue qu'il nomme La Legion Maudite. Maintenant, avec une équipe de super-méchants et un plan pour attaquer le site top secret du gouvernement Area 52, Lex peut-il enfin envisager la victoire ? Sonnez l'Alerte du Danger, et préparez-vous à voir voler les briques quand Superman, Batman, Wonder Woman et le reste de la Ligue affrontent les plus grands super-vilains de la planète !